Surebets Calculator.
Surebets calculator allows for calculation bets sizes for various surebets types. Different currencies can be used. Currency rates are defined in Settings menu item. You can define commission, if one of surebet bets is made on betting exchange.  You set the total surebet sum and calculate every bet size, and vice versa. You can define any bet size and get other bet sizes, including total surebet sum. Calculator incorporates many surebets types. For your convenience you can select subset of all surebets types when making choice which surebet you want to analyze. For example, you can select Basic Surebets, or Surebets containing member H(+0.75). You can round sum of any bet of a surebet, or all bets of a surebet.
Here
H - Asian Handicap,
E - European Handicap,
X – draw,
W1 – first team win in 1-2 line,
W2 – second team win in 1-2 line,
TO – total over,
TU – total under.
<![if !vml]>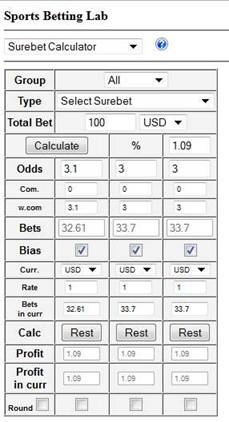 <![endif]>